After weeks of preparation, we can finally introduce you to Ellie 2.0.
A new website, new features and new premium memberships with a lot more value for you!
Thursday 3/11 at 14h00 CET we're hosting a live info session to present you the new features and memberships in person. Join us!
Prefer to read? Find an overview of what's new here:
What's new?
New features and update of the membership plans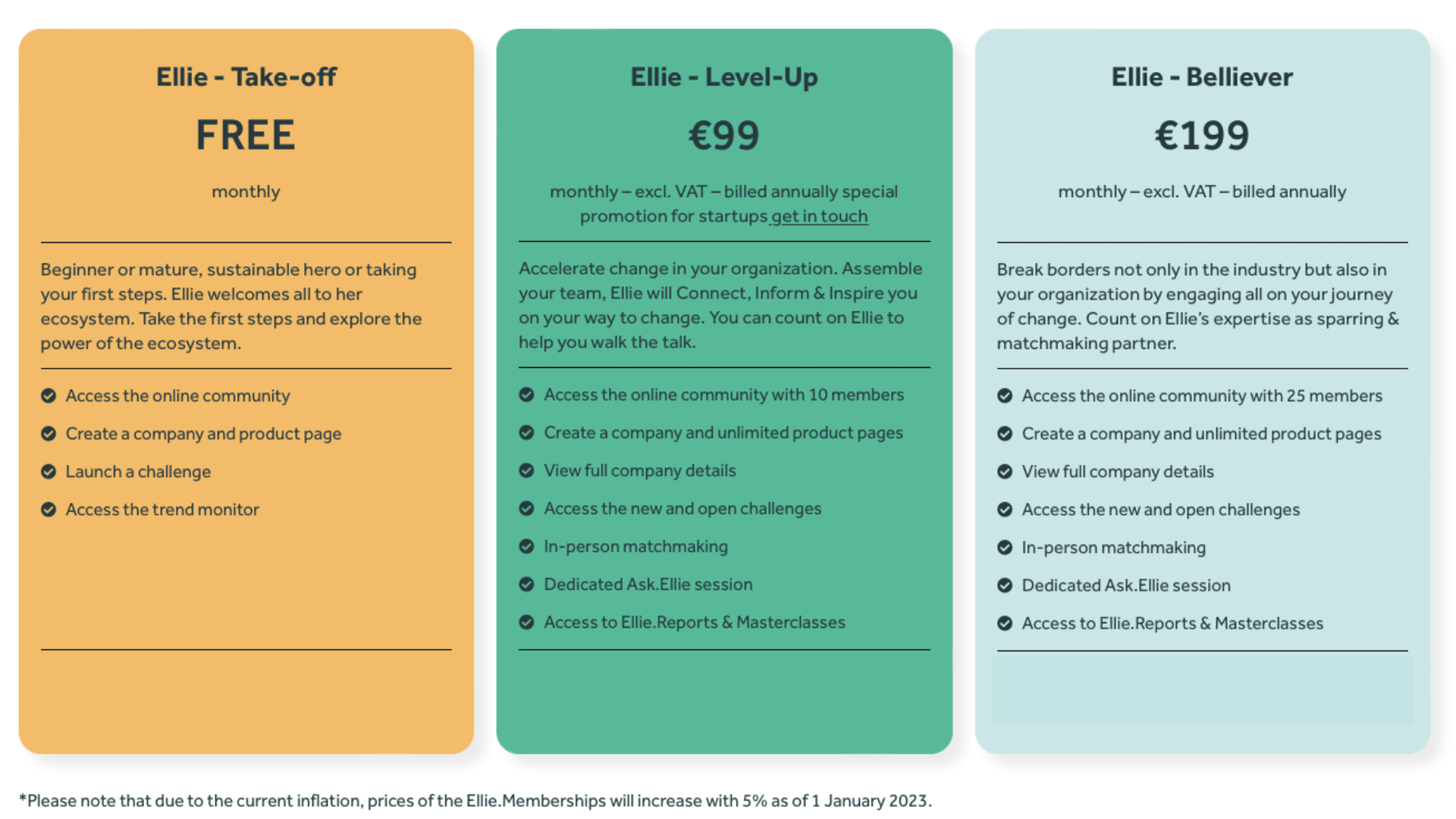 New names: Connections, Information & Inspiration should be available to all members hence the choice to throw out the old names of the packages, and choose new ones that match the different phases our members are in.
Upgrade in number of members: Successful change results from changing our daily operations, involving the entire organisation. Whoever who wants to be involved in your sustainability journey, should get the change too. All will have certain questions popping up along the journey. Ellie connect will be there, at any time, to be a starting point in finding the right answers. In the Level-Up you can join with 10 and in the Belliever with 25 premium members.
Training database: the product database got an extension, you can now also add and find trainings and courses related to circular economy, already more than 60 trainings in BE & NL have been added!
New approach of the challenges: Everyone can still post challenges, of course! From now, the details of the new and open challenges are exclusively available to the Level-Up & Belliever members. Solved challenges will be shared publicly.
In-person matchmaking: premium users can count on matchmaking support by Ellie to find matches to their challenges. Next to a search in the Ellie.Connect ecosystem (make sure you've added a company page) we have a database of +2700 companies. You can also opt for a confidential approach.
NEW: Ask.Ellie monthly sessions: the first one will be on 15/11. During the Ask.Ellie sessions you'll get the possibility to get instant feedback on your challenge from the Ellie experts and your peers. Premium members can present their challenge, Take-Off members can join, provide feedback and learn valuable lessons.
Access Masterclasses: very soon more, but we can already say at least 2 will come, one on upcoming legislation around sustainability and circularity in Textiles & Fashion and one on Employer Branding.
Trend Monitoring available to all : trend monitoring is now available to all members! Browse the topic catalogue to find an overview of relevant news articles and make sure you stay ahead of the market.
This is just what's new! We also have the announcements page with the latest events and updates from the industry, the knowledge base with a vault of research, and the monthly Ellie.Reports, a lot of food-for-thought content via our social media and so much more.
New website and social media handles!
Ellie just also got an entirely new website, next to the information on the memberships and the register button you can now also find the overview of all the Ellie.Talks podcasts, our free guides, and the manuals for Ellie.Connect, FAQ and so much more.
Next to that, we've adjusted the handles on social media to remedy the confusion between Ariadne Innovation (the company) and Ellie (our brand). You can now connect with Ellie via:
@ElliebyAriadneInnovation on LinkedIn & Instagram
www.ellieconnect.com to find all the Ellie.Talks episodes, blog posts, free guides, FAQ, ..
www.platform.ellieconnect.com to access the digital community.
And to celebrate the new launch we have a special LAUNCH PROMO during the month of November!
If you upgrade before 30/11 to a Level-Up or a Belliever membership you will not only get a 15% Direct Discount with the coupon LAUNCHNOV but also a marketing feature on the social media channels of Ellie and the Training 'Introduction to Textiles (worth €199) for free! Perfect to understand the basics of sustainability in the industry